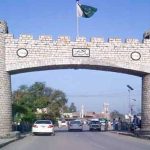 LAHORE: Actor-cum renowned singer Ali Zafar on Monday submitted the evidences of organized campaign against him in a session court during the hearing of defamation suit filed against singer Meesha Shafi.
Ali Zafar appeared before the session court and presented the evidences and documents of organized campaign against him. The singer submitted the evidences including messages, agreements, images and social media posts in the court.
During the hearing, the actor-cum singer told the court that he was threatened by Meesha Shafi before a recording of a TV show. He claimed that Meesha Shafi sent him a message before a TV show, saying that if he did not skip the programme then she would run a campaign against him.
On May 21, Singer Ali Zafar's seven witnesses submitted their affidavits before the court refuting the allegations in the Meesha Shafi defamation case.
During the latest hearing of the defamation case, the seven witnesses brought by the legal team of Zafar submitted their affidavits terming the allegations placed by Meesha Shafi as entirely baseless.
In their affidavits, the witnesses stated that they were all present at the jamming session in the same room with both artists. They claimed that no sexual harassment took place during the session.
Earlier, Model Kinza Muneer, witness who was produced as a witness by Ali Zafar's counsel, on Saturday recorded the statement in Lahore sessions court.
During the hearing, Kinza Muneer said that she was present in the studio where Shafi has alleged that she was sexually harassed by Zafar during a rehearsal session of a concert. Muneer said that around 10 people were in the studio at the time of rehearsal, that went on for 45 minutes.
The witness further said that both singers were standing four to five feet apart from each other during the rehearsal session, that was being filmed.
Claiming that Shafi's accusations were 'lies', Muneer said that Shafi had hugged Zafar when she arrived at the studio as well as when she had left.