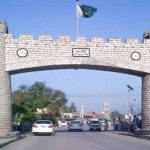 KARACHI: Rejecting rumors of parting ways with Pakistan Tehreek-e-Insaf (PTI), former federal minister Ali Zaidi called for strict action the attackers of Jinnah House and military installations.
Speaking to the media outside a private hospital in Karachi, PTI leader Ali Zaidi said that the corps commander house in Lahore was vandalized, Radio Pakistan was set on fire, and it was most painful to see the memorial of the martyrs being burned. He said, "the army is with us, and we are with the army. Differences of opinion are common among fathers, brothers, sisters, and spouses."
He further stated that peaceful protests were a constitutional right that no one can stop, but what happened on May 9 was terrorism. He condemned the events of May 9 and stated that he can never support violence.
Responding to rumors circulating about leaving the Pakistan Tehreek-e-Insaf, Ali Zaidi said that his political upbringing was rooted in the PTI, and he did not consider anyone other than Imran Khan as a politician. He said that he will leave the PTI on the day when Imran Khan decides to leave. PTI is his party, and no pressure can make him leave the party.
While speaking to the media, Ali Zaidi became emotional and expressed his regret over the voices coming from within the party. He said that this is his party, and he has built it.
He mentioned that he had requested medical treatment, and he has been in pain for the past four to five days. The doctors have advised him to get an X-ray as well.