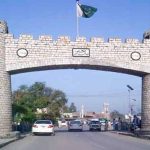 ISLAMABAD: All administrative and security arrangements have been made for the 6th population and housing census starting from Wednesday nationwide.
Addressing a joint News Conference in Islamabad on Sunday evening along with Director General ISPR, Major General Asif Ghafoor and Chief Census Commissioner Asif Bajwa, Minister of State for Information Marriyum Aurangzeb said that the census will be conducted in two phases and will be completed on 25th May this year.
The first phase will start from Wednesday and conclude on 15th April.
After a ten day gap the second phase will start from 25th April and conclude on 25th May.
She said that 18.5 billion rupees have been allocated for the census.
She said that 1, 18,918 enumerators will perform duty during the census assisted by personnel of Pakistan army.
Minister of State said that all the enumerators are government employees and have been fully trained.
She said that during the door-to-door house listing and population count the profiling of the transgenders and disable persons will be included.
Marriyum Aurangzeb said that after 25th May provisional lists will be published including number of males and females and rural and urban population.
Director General ISPR, Major General Asif Ghafoor said that two hundred thousand personnel of Pakistan Army will assist the census process.
He said one solider will be deputed with each numerator to ensure smooth and transparent counting and for provision of security.