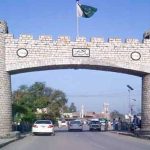 Defence Minister Khawaja Muhammad Asif says all stakeholders in the political system must sit with a definite agenda of dialogue to take the country out of the prevailing conundrum.
Talking to newsmen outside Supreme Court in Islamabad today, he said the coalition government held talks with PTI in the last two months but PTI representatives did not show seriousness and rather came without any purpose or agenda.
He said purposeful negotiations, and not talks for the sake of talks, is need of the hour.