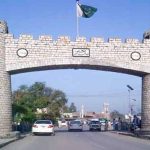 ISLAMABAD: The Election Commission of Pakistan (ECP) on Thursday has elected Allauddin Marri as the caretaker Balochistan Chief Minister after the provincial government and opposition failed to finalize nominees for the slot.
ECP officials said in media talks that the name was selected in a meeting of the Commission chaired by Chief Election Commissioner (CEC) Sardar Raza Khan.
The meeting which was also attended by all four ECP secretaries agreed on the name of Allauddin Marri given by the government, the officials added.
Allaudin Marri belongs to Mastung District of Balochistan and is a well-known businessman.
He has been reported to have no affiliation with any political party.