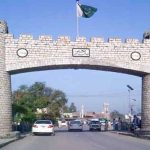 KARACHI: Chief of Muttahida Qaumi Movement (MQM), Altaf Hussain, on Wednesday called for a public referendum over Rangers operation that is being carried out against criminal mafias in Karachi.
The demand was made by the MQM chief in a statement from London.
"There is no public mandate behind Rangers actions and operations in the city. Therefore, a referendum should be held to know public opinion," Altaf Hussain said.
He also demanded that a committee of judges should be formed to oversee Rangers actions.
Yesterday, the MQM chief asked Chief Minister Sindh to pass a bill in Sindh Assembly against Rangers' stay in the province.