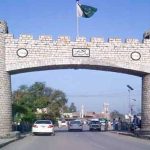 PESHAWAR: Pakistan Muslim League-Nawaz (PML-N) leader, Engineer Ameer Muqam on Wednesday reached National Accountability Bureau (NAB) office to present himself in charges of possessing assets beyond known means of income.
The NAB has accused Muqam of purchasing properties in Islamabad, Lahore and Peshawar. He is also accused of purchasing precious agricultural land in Swat, Shangla and Peshawar, besides having several bank accounts.
Muqam's wealth and luxurious lifestyle do not match his known income and that is why investigation against him was initiated, said officials privy to the matter.
The NAB KP started the inquiry against Ameer Muqam in July, after orders of the NAB Chairman Justice (Retd) Javed Iqbal. Today is the 3rd appearance of Mr Muqam before the anti-graft watchdog body, he was handed over questionnaire pertaining to the probe in the last appearance.
NAB had acquired complete record of Muqam's assets from Punjab Excise and Taxation Department.
Ameer Muqam's wife, Naseem Begum and two daughters, Afshan Muqam and Anjum Sohail, his four sons, Ashfaq Ahmed, Ishtiaq Ahmed, Niaz Ahmed and Ameer Adnan are also being probed over the allegations of having assets beyond means.
Engineer Ameer Muqam is President of PML-N Khyber Pakhtunkhwa. He has previously served as adviser to the prime minister. He had contested the July 25 election from two National Assembly and two provincial assembly seats on the PML-N ticket but lost all four.
The National Accountability Bureau (NAB) in a statement issued yesterday said that it has launched large-scale investigations against 71 influential persons across the country.
According to the list, investigations in corruption cases initiated against the 71 important personalities, including former prime ministers, chief ministers and ministers.
It is pertinent to note here that NAB had earlier this month announced that from October 2017 to October 2018, the bureau had received 44315 complaints, authorized 1713 complaint verification, 877 inquiries and 227 investigations, arrested 503 accused persons and recovered Rs 2580 million from corrupt elements and deposited in the national exchequer.