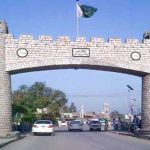 DUBAI: Pakistani fast bowler Mohammad Amir left for Dubai on Wednesday, immediately after his Walima dinner was held in Lahore on the same night.
The newly-wed couple left together for Dubai, as Mohammad Amir left with his wife after their Walima dinner. Cricket stars and the who's who from Pakistan's showbiz industry attended the event last night.
Immediately after the Walima festivities were over, Amir arrived at Lahore airport with his wife to fly for Dubai. Mohommad Amir's brother, his wife Narjis Malik and her family members were also present with the fast bowler at the airport.
Amir left for Dubai in an international airline with his wife Narjis, where he is expected to take part in a T20 match against West Indies.
The first of three T20 matches between Pakistan and world champions West Indies will be played on September 23 at the Dubai International Stadium.