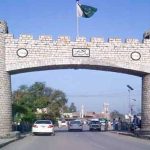 BIRMINGHAM: Amir Khan survived a second-round knockdown to maintain momentum in his comeback to the sport with a unanimous points win over Samuel Vargas.
The Briton, 31, floored his rival with a straight right in the second round but took an overhand right to go down and stun those at Arena Birmingham.
The bell arrived to save Khan, who scored another knockdown in the third before the pace gradually slowed.
He maintained control late on for a 119-108 119-109 118-110 victory.
After his 39-second demolition of Phil Lo Greco in April, this proved a far stiffer test for Khan, who showed his trademark hand speed early on. But, as has been the case in the past, the vulnerability of his chin remains a question mark.
Only seconds of the second round remained when he quickly stood back up after the knockdown, and in the 10th round he was again tagged heavily with a right hand moments before the bell.
This is his second bout since his 23-month break from the sport, and it was watched closely at ringside by Kell Brook, who remains keen on facing Khan and says he will drop down to the 147lbs welterweight division to secure a bout.
"The only fight that works for me over Kell Brook is Manny Pacquiao," Khan said after the fight. "I want him. He is my number one pick. If not, we go back to the drawing board and if it's Kell Brook it's Kell Brook."
Eddie Hearn – who promotes both Brook and Khan – said the domestic bout between his fighters "has to happen next or it never will".
Brook responded: "He hasn't got the greatest chin. I wouldn't have let him off the hook and he would have stayed on the floor."
He had not been taken 12 rounds since a points win over Chris Algieri in May 2015. Since then, he has suffered a brutal knockdown at the hands of Saul 'Canelo' Alvarez, spent time in the jungle on a reality TV series and then outclassed Lo Greco.
Toronto-based Vargas – who now has four defeats in 35 bouts – was undoubtedly more game, but he was visibly thrown by Khan's hand speed early on. The Colombian-born fighter repeatedly ducked after throwing shots, making himself a static target and his nose quickly displayed heavy damage.
Khan – working with trainer Joe Goossen for the second time – seemed to engage with more caution after the third round, when Vargas, 29, protested that his second knockdown of the night came after he was hit on the back of the head.
And late on, Khan sensibly moved away from trouble, boxing close to the ropes and thrusting himself into sporadic attacks, notably finding his target when a right hand sent Vargas back to the ropes in the ninth.
There was a scare late in the 10th but again Khan only needed to survive for seconds before the bell and the victory at least afforded him valuable ring time.
Goossen will surely look to bolster his fighter's defence before any meeting with Brook or Pacquiao and with Khan intent on competing again this year, time for preparing for such a step up in opponent is minimal.