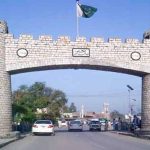 ISLAMABAD: The Chief Justice of Pakistan (CJP), Justice Saqib Nisar has said that stakeholders have reached consensus for immediate construction of two new dams in view of the current water crisis in the country.
He said this while hearing a suo motu case related to Rs. 54 billion worth of loan waved off by 222 individuals and companies.
He added that the amount recovered from the defaulters, who waved off loans, would be used to construct two new dams immediately.
The court then adjourned hearing of the case till July 4.