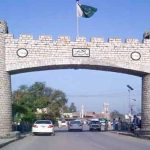 As many as 146 Pakistan Tehreek-e-Insaf (PTI) leaders and workers have been placed on the no-fly list a day after naming PTI chief Imran Khan and his wife in the exit control list (ECL) on Friday.
The decision to include these names in the list was made following investigations and actions taken by the police, the National Accountability Bureau (NAB), and anti-corruption agencies.
It has been further noted that those included in the list will require special approval from the Ministry of Interior in order to obtain one-time permission for travel.
The lists containing the names of all 226 individuals have been shared with immigration authorities at various airports across the country.