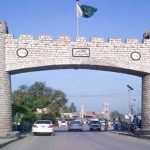 PESHAWAR: An eleven-month-old child has been tested positive for polio-virus in Bannu district of Kyber Pakhtunkhwa, making it the eleventh case to be reported from the division this year and the 21st confirmed case of 2019.
The latest case has once again shed light on the effects of a propaganda campaign against the polio vaccination drive with Prime Minister's Focal Person on Polio Eradication Babar bin Atta urging parents to have their children vaccinated.
In a statement, he said considering the situation in Bannu, a special polio immunisation campaign has been scheduled in Bannu division after Eidul Fitr. "There is no cure for polio virus and immunisation is the only viable solution," he said. The statement added that of the 11 cases, seven cases were from district Bannu and four were from North Waziristan tribal district.
"It is very important to vaccinate the children in each campaign. The technical experts are of the view that if the circulation of polio virus is not controlled, soon it will engulf the neighbouring divisions as well," added Atta while warning that the outbreak could turn into an epidemic.
The PM's focal person on the disease said the federal and provincial governments were fully committed to the cause of polio eradication. "It is our national responsibility to make it possible to immunise children up to five years of age in each polio campaign."
He said that it was high time to fight collectively against polio virus and extend support to the polio workers working on the frontlines to vaccinate every single child of the country. Along with Nigeria and war-torn Afghanistan, Pakistan is one of three countries in the world that is yet to eradicate polio.