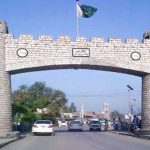 A petition was filed in the Lahore High Court (LHC) on Tuesday, seeking judicial inquiry into the death of diehard PTI worker Ali Bilal alias Zille Shah.
A local lawyer filed the petition of public interest in which Punjab caretaker chief minister, chief secretary, inspector general of police, Punjab, and the CCPO were made the respondents.
The court reserved the verdict on the maintainability of the petition.
Zille had died during the PTI's 'save judiciary rally' a few days ago.
While the PTI called it a murder and blamed it on the Punjab government, the latter also first said it was a murder but later said it was the consequence of a car accident.