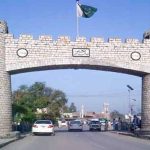 PESHAWAR: A new police case has been reported from North Waziristan as locals announced to boycott from polio vaccination drive against target killing in the district.
The National Institute of Health (NIH) Islamabad confirmed the new case in the North Wazriistan , taking the total number of cases of polio to 13. With this new case the total number of polio cases has reached 14 in Pakistan that include 13 from North Waziristan and one from Lakki Marwat.
Meanwhile, The grand jirga of elders of all tribes in North Waziristan have announced that they would not vaccinate their children against the poliovirus and there would be a complete boycott of polio immunisation drives in future as  protest against target killing in the district. The decision was taken in a two-week protest sit-in being staged by the Jamiat Ulema-e-Islam-Fazl and attended by prominent elders from all tribes of North Waziristan, including Member National Assembly Mohsin Dawar, chief of Waziristan Malik Nasrullah Khan, chief of Dawar tribe Malik Jan Muhammad, Tehsil Miranshah Chairman Maulana Naik Zaman Haqqani, Ulema and social and political figures attended the grand jirga against target killing.
The restive North Waziristan, the southern district of Khyber-Pakhtunkhwa, have become the hotspot of wild polio virus. 13 children confirmed with wild polio as of June this year belong to North Waziristan, where more cases are expected following polio outbreak and high refusal rates and instances of finger-marking without vaccination during campaigns.
Bannu also reported two positive environmental samples between April and May this year, confirming that ongoing wild poliovirus transmission is not limited to North Waziristan.
The closest Pakistan have come to eradicating polio was in 2021 when it had a single case in a year which had onset of paralysis on 27 January in Killa Abdullah, Balochistan. Prior to the poliovirus outbreak in North Waziristan earlier this year in April, Pakistan had spent 15-months without detecting a single case of the virus, the longest such period in its history. In December last, UNICEF had signaled of polio eradication in Pakistan after only a single case was reported in year of 2021.