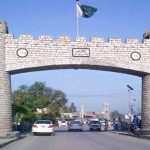 LAKKI MARWAT: Another polio case has surfaced from Khyber Pakhtunkhwa after which the toll in the province has mounted to 57 this year.
The Emergency Operations Centre (EOC) Coordinator Abdul Basit said the fresh case has surfaced from Serai Naurang area of Lakki Marwat district where a nine-month-old child has been affected by polio. Abdul Basit said that the affected child was not given even a single dose of anti-polio vaccine during the nine months after his birth.
The samples of the child were sent to library tests where it was confirmed that the child has been infected by polio virus. With the emergence of new polio case, the toll in KP has mounted to 57 in KP and 77 in Pakistan.
The EOC coordinator said the anti-polio vaccine is safe in every respect. He said it is imperative to administer polio vaccine to every child to ensure eradication of the crippling disease from the province and the country. He said the cooperation of parents and society at large is must to achieve the desired objectives of the vaccination campaigns.