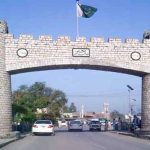 ISLAMABAD: Assistant Director of the Capital Development Authority (CDA) Ayaz Khan Mehsud of South Waziristan went missing from Melody Market area of Islamabad on Friday.
According to details, Ayaz Khan – a resident of Amad Wam Bangay Wala area of Sararogha Tehsil in South Waziristan district of Khyber Pakhtunkhwa – visited CDA office on Thursday and last time he contacted his wife.
Officer's wife told the Islamabad police that Ayaz Khan left office at 04:00pm and was on his way to his home in G13.
The police have formed Joint Investigation Team (JIT) and launched an investigation after registering the missing report.
Unfortunately, the CCTV cameras installed in Melody Market were out of order, police informed.
The missing officer was appointed at Khanpur Dam for services.