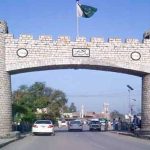 NEELUM VALLEY: Another sufferer of Indian rocket attack on bus in Neelum Valley has succumbed to injuries after which the death toll has escalated to 11.
Innocent people living along the Line of Control are continuously falling prey to Indian limited war as at least 42 locals have been martyred in two months.
On November 25, a rocket fired from the Indian side hit a passenger bus in Dhudnial area of Azad Kashmir's Neelam Valley, claiming 11 lives while in cross-border firing, three soldiers of Pakistan Army were martyred.
It was also reported that seven Indian soldiers were killed in Pakistan military's retaliation.
Both India and Pakistan claim Kashmir in full, but govern separate parts, and have fought three wars since independence from Britain in 1947, two of them over Kashmir.
Tensions have been high since an Indian crackdown on dissent in Kashmir following the killing of a young freedom fighter Burhan Wani by security forces in July.
They rose further when New Delhi blamed Pakistan for the Uri attack, which inflicted the heaviest toll on the Indian army in a single incident in 14 years.