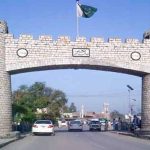 PESHAWAR: Awami National Party (ANP) central leadership on Tuesday demanded of the federal government to launch decisive operation against terrorists in Punjab to eradicate the menace of terrorism from the country.
ANP chief Asfandyar Wali Khan chaired the party Central Council meeting at Bacha Khan Markaz in Peshawar.
Asfandyar Wali Khan while addressing on the occasion criticized government for its failure to truly implement the National Action Plan (NAP) according to its spirit. He said that terrorism has increased again as NAP was not implemented according to its spirit.
ANP chief said that Punjab is the center of terrorists however government is avoiding action against terrorists in Punjab.
Asfandyar also criticizes the PML-N government for sidelining Khyber Pakhtunkhwa in China-Pakistan Economic Corridor (CPEC) and said that Prime Minister Nawaz Sharif's promises at the All Parties Conference (APC) were not fulfilled yet.
The ANP Central Council decided to stage protest demonstrations in all the provincial capitals on same day for true implementation of NAP. Date for the protest will be announced after consultation with all the four provincial presidents of the party.