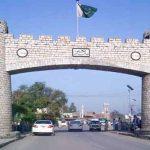 ISLAMABAD: The Awami National Party (ANP) parliamentarians have started hunger strike outside the parliament house in protest against the blockage of the computerized national identity cards (CNICs) of the Pashtons.
MNA Ghulam Ahmed Bilour, MNA Haider Khan Hoti, Senator Ilyas Bilour, Senator Shahi Syed, Sitara Ayaz and other ANP parliamentarians are participating in the hunger strike camp.
Opposition leader Syed Khursheed Shah, Farhat Ullah Babar and MNA from Khyber Agency Alhaj Shahji Gul Afridi also visited the hunger strike camp to show solidarity with the ANP leaders.
The ANP leaders said the hunger strike outside parliament will continue until the issue of blocked CNICs is resolved. The asked the interior ministry to unblock 450,000 CNICs of Pashtuns.
The hunger strike was announced by ANP chief Asfandyar Wali Khan on Tuesday during a public gathering. He had asked party's parliamentarians to join Ghulam Ahmad Bilour in his call for hunger strike to pressure the interior ministry to unblock Computerized National Identity Cards (CNICs) of Pakhtuns. "Why only the CNICs of Pakhtuns are blocked?" Asfandyar questioned the interior minister. "We have no option left but to protest to compel the government to unblock CNICs."
The ANP chief also criticized the provincial government for not playing any role in resolving the issue that has affected thousands of families in Khyber Pakhtunkhwa and Federally Administered Tribal Areas. He warned that the protest of ANP will be different from the protest of Pakistan Tehreek-e-Insaf who only danced for several months in the federal capital.