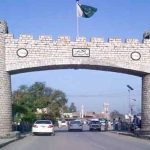 PESHAWAR: The Awami National Party (ANP) on Monday suspended the memberships of two senior leaders, Senior Vice-President Bushra Gohar and former Senator Afrasiab Khattak, accusing them of violating the party discipline and damaging its interests.
According to a press release, the party leadership had issued a show-cause notice to the two senior party leaders last week, and suspended their memberships after it failed to receive any satisfactory response on the notices from them.
The show-cause notice was issued by ANP central General Secretary Mian Iftikhar Hussain on the directives of party president Asfandyar Wali Khan.
"Your activities are against the party's interests, its constitution and discipline that have resulted in [a] huge loss to the party," the show-cause notice had read. It added that their activities had negative effects on the workers as it created confusion and led to the misunderstanding that damaged the party's interests.
The party had asked the two leaders to submit their reply within seven days or else face action for violating the party discipline and policy.
The party leadership further accused the two of continuing their activities on social media which resulted in confusion among party workers.
"Their responses are not at all satisfactory therefore the party president has suspended their basic membership according to the party constitution," the party leadership said in the notification.
The notice did not state the exact charges or details of the activities for which the two leaders had been suspended. Earlier, Mian Iftikhar Hussain had said the specific reasons could not be disclosed to the media as this concerned the party's internal matters.