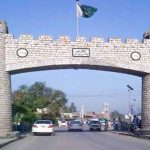 PESHAWAR: The Awami National Party (ANP) on Tuesday unveiled manifesto for the upcoming general elections with keeping peace and security as top priorities.
While unveiling ANP's manifesto for general elections 2018, the party's manifesto committee chairman Mian Iftikhar Hussain said that the party priorities included formation of special policy to counter terror incidents, peace restoration, employment for youths and development of agriculture sector along with several other welfare projects. The party announced strong opposition to anti-state measures.
The party also announced to promote Urdu, Pashto, English and Chinese languages. The party also announced empowerment of women and education for all children.
In its manifesto, ANP announced to introduce reforms in Police along with economic reforms. The party also announced reforms in judicial system.
Main Iftikhar said that the party would be working to actualise all those powers that Khyber Pakhtunkhwa had yet to exercise to reap the benefits of the 18th Amendment that gave autonomy to the provinces.
He said that tribal areas that had become new districts of Khyber Pakhtunkhwa offered an opportunity as well as challenge for ANP as it needed to assure them with basic rights.
Mian Iftikhar said that after coming into power, ANP would construct new sports complexes, colleges. He also announced formation of new districts.