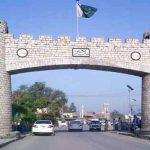 PESHAWAR: Awami National Party's (ANP) candidate Pervez Ahmed has moved the Peshawar High Court (PHC) for recount in PK-61 wherefrom former chief minister Khyber Pakhtunkhwa and Pakistan Tehreek-e-Insaf (PTI) leader Pervez Khattak succeeded.
Pervez Khattak bagged 20,000 votes from the constituency and was declared victorious; the petitioner said and added that the 20,000 votes were contrary to the real figure.
In his petition, Pervez Ahmed further stated that the polling agents were removed from the room while vote counting.
The petitioner maintains that more than 4000 votes have also been rejected therefore; a vote recount should be ordered in the constituency.
Election Commission of Pakistan (ECP), Returning Officer (RO) Nowshehra and others have been made parties in the case.