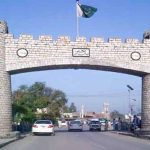 ISLAMABAD: A special targeted case response anti-polio campaign continued on Thursday to vaccinate the under five year old children for the fourth day in selected districts across Pakistan. Precaution is required from Corona but protection is essential from Polio. I
n the first phase, children in some areas of Lahore, Faisalabad, Karachi, Quetta, Attock and South Waziristan are being vaccinated.
In Punjab, a five-day anti-polio drive was being launched in 44 union councils of Faisalabad and 14 union councils of Attock.
In Karachi, the anti-polio drive was being launched in specific towns including Baldia, Orangi, North Nazimabad and Liaquatabad.
In Khyber Pakhtunkhwa, a five-day anti-polio campaign begins in South Waziristan district.
Five day anti–polio drive was also being launched in ten Union Councils of Quetta. During this campaign children below five year age will be administered anti-polio vaccine.
Earlier, the National Command and Operation Center (NCOC) announced resumption of the anti-polio drive on July 20 (today) after a break of four months.
It is pertinent to mention here that the door to door vaccinations of children against polio was suspended on March 20 due to the coronavirus outbreak.
The anti-polio drive initially aims to vaccinate about 800,000 children under the age of five in high-risk districts, including Karachi, Quetta, Faisalabad, Attock and South Waziristan to protect them against the crippling disease.
Around 8,000 health workers will take part in the polio vaccination campaign. The third phase of the polio vaccination drive in Pakistan will begin in the last three months of the current year.
A large scale anti-polio drive will be launched in months of August and September, according to the NCOC.