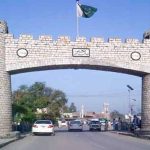 QUETTA: The All Parties Conference, held in Quetta on Tuesday, unanimously resolved to foil terrorist activities and foreign conspiracies aimed at destabilizing Balochistan.
It adopted a declaration which says the China-Pakistan Economic Corridor has become an eye sore to the enemy and it is now using negative tactics in their bid to derail the project.
The participants of the Conference strongly condemned the terrorist attack in Mastung and vowed to bring the culprits to book.
They discussed the law and order situation in Balochistan threadbare and presented various proposals for its improvement.
The APC noted that Mastung tragedy was an attempt to sow seeds of hatred and disunity in the ranks of tribes that have been living in harmony for centuries. The conspiracy was foiled by people of Balochistan through their unity.
The APC expressed satisfaction that civil and military leadership was on the same page on the question of elimination of terrorism. There is complete consensus on rooting out terrorism and terrorists.