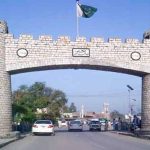 PESHAWAR: Inspector general of police Khyber Pakhtunkhwa Moazzam Jah Ansari has said that the apex committee has given clear direction regarding war against terrorism, adding that detailed discussion was held on peace talks the meeting. The IGP said that if there was a need for talks with some one in future, then they would be held from stronger position.
In a statement, the IGP said that the Afghan Taliban's support would be sought for elimination of terrorism. "Our political leadership will talk to Afghan political leadership while military leadership of Pakistan would talk to Afghan military leadership in this regard," he said. He added that the Pakistani religious scholars would also talk to Afghan religious scholars. He said, "If we need any information from Afghanistan, it would be through  mutual legal assistance". "We would ask Afghanistan to take action against elements involved in destabilization of Pakistan," he said.
The IGP maintained that the Afghan refugees policy would also be reviewed. The extortionists are using Afghan mobile numbers for whatsapp calls, he said. He said that the capability of the police and CTD would be strengthened.