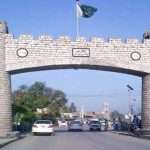 SUKKUR: An appellate tribunal on Monday rejected Pakistan Peoples Party (PPP) candidate Manzoor Wassan's nomination papers for PS- 27 Khairpur.
Mir Zaheer Talpur, a member of Grand Democratic Alliance (GDA), had filed an appeal against Wassan's nomination papers with the returning officer over undeclared assets in Dubai.
According to Wassan, he had declared everything in his nomination papers and was not sure why his papers were rejected.
Wassan added, he would consult with the Sindh High Court over the matter of his nomination papers' rejection.