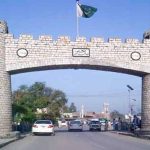 PESHAWAR: Six years ago today, on December 16, 2014, 147 people, including 132 schoolchildren, were massacred in the deadliest terrorist attack in Pakistan's history when terrorists stormed Army Public School in Peshawar Cantonment and opened indiscriminate fire.
To pay tributes to the martyred and injured students, teachers, and other staff members during the unfortunate incident, a number of events have been planned to be held in Peshawar and other parts of the country.
The attack not only shook the entire country but it was condemned by people and countries across the world. A 20-point National Action Plan was introduced across the country a month after the APS attack to tackle militancy and terrorism and restore peace in the country.
"We got this country because of the sacrifices of the martyrs. Today it is strong and peaceful with the blood of martyrs including the APS victims and thousands of others who sacrificed their lives for peace," Tufail Khattak, father of the martyred student Sher Shah Shaheed, told The Media.
Security across the provincial capital has been upgraded to avoid any untoward incident on the occasion of the anniversary of the December 16, 2014, terrorist attack on the APS.