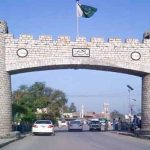 RAWALPINDI: Director General Inter-Services Public Relations (ISPR) Lt-General Asim Salim Bajwa said the country's armed forces are fully prepared to respond any aggression but war is not in anybody's interest. He said Pakistan is absolutely geared up to war at every place, if it was imposed.
Briefing journalists in Baghsar who were taken to Line of Control (LoC) to inspect the situation there, he said Pakistan had vehemently retaliated Indian's recent unprovoked gunfire and will give such a befitting rejoinder that the neighboring country will not dare to repeat its misadventure in future.
Asim Salim Bajwa warned, "We will do whatever we can for the sake of defence of Pakistan. And, no one should have any doubt about this as we defended the motherland earlier as well and we will do it again with full vigor."
The boss of Pakistan Army's public relations department said an unfounded lie of surgical strike was spoken; however, Pakistan has returned Indian provocation, adding, "We believe Indian army suffered considerable fatalities. I wonder as to why they are unwilling to accept their loss."
Reacting to Indian claims, the ISPR chief said if anyone had crossed the LoC, he would have been visible to someone, referring to heavily guarded boundary line between the two nuclear-capable countries.
"If an Indian soldier mistakenly overstepped into Pakistani territory, we are watching over," he remarked alluding to the arrest of Indian soldier, Chandu Babu Lal Chohan from 37 Rashtriya Rifles.
The Pak Army spokesperson told journalists that the Indian side would have suffered causalities but it is hiding details in this regard.