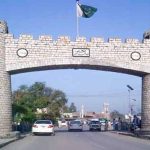 ISLAMABAD: The Ministry of Defense has informed the Election Commission of Pakistan that the armed forces are not available for election duty at this time due to the current situation country.
Under the chairmanship of Chief Election Commissioner Sikander Sultan Raja, a meeting was held regarding the elections of Punjab and Khyber Pakhtunkhwa assemblies, in which the Secretary and Additional Secretary of Defense also participated.
According to a statement issued by the ECP, the commission was briefed on the military's deployment on the borders and within the country, and the overall security situation of the country was also discussed.
The statement said that the Ministry of Defense has informed that the protection of the borders and the country is among the top priority of the military's fundamental duties, and due to the current national situation, the armed forces are not available for election duty.
The officials of the Ministry of Defense said that the current economic situation of the country has also affected the military. The officials said that the federal government will make a decision based on the current situation, whether to limit the military to its fundamental duties or to assign them to secondary duties such as election duty.
According to the Ministry of Defense, the military can be made available as a quick response for in the case of election duty, but it is not possible to perform duty in a static mode during the elections.