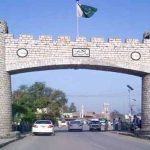 PARIS: A man armed with a knife was shot dead by security forces Thursday after attempting to enter a police station in northern Paris, police sources said.
The shooting took place outside a police station in the Goutte-d'Or area of the French capital's 18th arrondissement, the sources told Reuters.
A witness told a news agency he had heard "two or three shots" fired by police.
Paris police said the man cried "Allahu Akbar" (God is great) and may have been wearing a suicide belt.
Pictures posted on Twitter showed the alleged assailant wearing a camouflage coat, lying on the pavement after being shot. A police bomb disposal robot appeared to be inspecting the body.
The incident took place as France marked the one-year anniversary of last January's terror attack on the offices of satirical magazine Charlie Hebdo.– Agencies