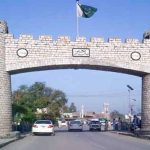 LANDI KOTAL: Some unknown armed men kidnapped picnickers from border areas of Khyber Agency and shifted them to Afghanistan on Tuesday.
Assistant police Agent Londi Kotal Mohammad Niaz told Khyber News that some people including children had gone to a picnic spot on Pak-Afghan border. Some armed men kidnapped the picnickers and shifted them to Afghanistan. He said that one person escaped from the kidnappers who informed the political administration about the incident, he said. He said that investigation into the incident would take time. The number of the kidnapped persons yet to be ascertained.
The residents of Adil Khar area said that the victims included children and aged people. No group has so far claimed responsibility for the kidnapping. The security forces have also started search operation in the border area.