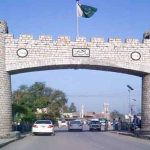 ISLAMABAD: After failing to disperse the protesters at Faizabad Interchange, the Interior Ministry has called in army to disperse protesters and bring the situation under control.
As the expiry of a deadline given to the protesting workers of Tehreek Labbaik Pakistan (TLP) occupying busy Faizabad Interchange in Islamabad, the law enforcement agencies launched a crackdown this morning to evict the demonstrators.
Islamabad police along with the personnel of the Frontier Constabulary and other law enforcement agencies launched crackdown against the protesters who have camped out at the Faizabad Interchange for over two weeks.
The government has shut social media and asked cable operators to shut news channels across Pakistan after the protest spread to several other cities of the country.
Hospital sources say at least five people were killed while 178 others were injured in police operation against protesters at the main Faizabad Interchange sit-in.