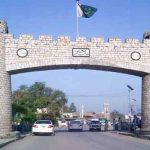 LAHORE: :President Arif Alvi on Thursday met with PTI chief Imran Khan at  Zaman Park and discussed the appointment of new army chief and chairman joint chiefs of staff committee.
Earlier today Prime Minister Shehbaz Sharif had sent a summary for  appointment of the Lt-Gen Asim Munir as chief of the army staff and Lt-Gen Sahir Shamshad Mirza as chairman chairman joint chiefs of staff committee to the President Arif Alvi for approval.
In a tweet posted on Wednesday, former prime minister Imran Khan said President Arif Alvi will consult him after he receives the summary for Army appointments.
He said he and the president will act according to the laws and Constitution of Pakistan on the matter.
Commenting on Imran Khan and President Arif Alvi meeting, PTI leader Fawad Chaudhry
Talking to reporters, PTI leader Fawad Chaudhry said legal and constitutional points came under discussion during the meeting between Imran Khan and President Alvi. The president House will release an official handout by 7 pm on the meeting between former premier and President Arif Alvi.
What can President Alvi do and why might he do it?
As per the rules, the president has to give the summary his approval within 10 days, but it can also be sent back if he finds an issue. If sent back, the summary will stay in the prime minister's office for 15 more days.
Thus, if the president wants, the matter of the appointment can be delayed for up to 25 days in total, after the summary is first moved.
If the president does opt for delay tactics, the key date to remember is November 27, when Lt General Asim Munir's service ends.