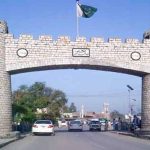 PESHAWAR: Chief of Army Staff General Qamar Javed Bajwa says nexus between terrorists in remote areas and their facilitators in urban centers will be severed whatever the amount of effort and time.
The Army Chief was speaking during his visit to Corps Headquarters Peshawar on Monday, which was meant for an in depth briefing on current state of security operations and the way forward in FATA, Khyber Pakhtunkhwa and Malakand Divisions.
Appreciating the gains of counter terrorism operations so far, he said that focus must remain on indiscriminate Intelligence Based Operations and combing operations for stabilization and consolidation.
Having created conditions for governance and socio- eco reforms, Army will stand by our valiant tribals and work with the government to bring about an equitable development across FATA for peace and prosperity in the entire region.
The Army Chief also reviewed progress towards border management and directed to expedite all construction work and capacity building of FC to effectively check all illegal cross border movement.
He was also apprised about concentration of terrorists across the border in Afghanistan and their continued efforts for an activity inside Pakistan.
The Army Chief observed that for optimum effect of sealing their movement either side, border management will have to be bilateral both by Pakistan and Afghanistan on their respective sides.
Qamar Javed Bajwa particularly emphasized on progress of return of TDPs and directed completion of their dignified return. He said that TDPs must be helped to resettle in their native towns with social infrastructure in place, in conjunction with the civil govt.