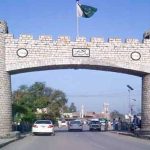 ROME: Army chief General Raheel Sharif on Monday met the Italian Foreign Minister while on a 3-day visit to the country where he is scheduled to meet the political and military leadership of the country.
According to Inter-Services Public Relations (ISPR) department, Army chief met the Italian Foreign Minister and discussed the regional security with him in detail. The Italian Foreign Minister Paolo Gentiloni appreciated the efforts made by Pakistan army to bring peace to the region. He said that the role played by Pakistan army for regional security is admirable. He said that Pakistan army is a great hope for peace in the region.
Army chief also visited the Defense and Security Industrial Group. The options to improve the military cooperation between the two countries were looked upon on this occasion.
Army Chief also visited the Air Defense Headquarter where he was briefed about weapon systems, doctrines and training.