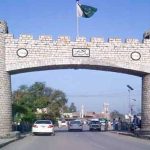 OMAN: Chief of Army Staff (COAS) General Qamar Javed Bajwa called on Oman's Minister for Defense His Excellency Sayyid Badr bin Saud bin Harib Al-Busaidi on Thursday, according to the Inter-Services Public Relations (ISPR).
Gen Bajwa is in Oman on an official visit where he has also met the Chief of Sultan's Armed Forces General Ahmed bin Harith bin Nasseer Al- Nabhani.
Matters of mutual interest including defense and security cooperation were discussed in the meeting with Busaidi. General Nabhani was also present during the meeting, according to the military's media wing.
Oman's defense minister acknowledged Pakistan's efforts in the fight against terrorism and establishment of regional peace and stability.
The COAS later met the chief of Royal Oman Air Force.
Earlier, on General Bajwa's arrival in Oman, a reception was hosted by General Nabhani.