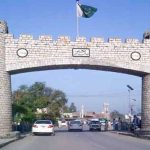 KARACHI: Army Chief General Raheel Sharif on Sunday visited Civil Hospital in Karachi and inquired after the health of those injured in suicide terrorist attack at Shah Noorani Shrine in Khuzdar District of Balochistan.
Corps Commander Karachi and DG Rangers also accompanied him on the occasion.
At least 62 people were killed and more than 100 others were wounded when suicide bomber ripped through the crowded Shah Noorani Shrine in Balochistan on Saturday evening, police said.
The blast hit a crowd of worshippers participating in a ceremony at the shrine of Sufi saint Shah Noorani in Khuzdar district, some 760 kilometres (472 miles) south of provincial capital Quetta.