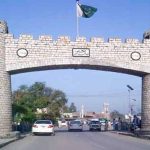 ISLAMABAD: Chief of Army Staff General Qamar Bajwa has reportedly met with Prime Minister Nawaz Sharif, private TV Channels have reported.
Reportedly Chief Minister Punjab Shehbaz Sharif was also present in the meeting.
COAS placed before PM the reservations of the Pakistan Army upon the Dawn Leaks enquiry findings.
PM Nawaz Sharif has assured the COAS to redress all the grievances of the Armed Forces over the issue of the Dawn Leaks.