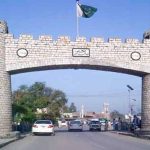 LAHORE: General Qamar Javed Bajwa, Chief of Army Staff (COAS) chaired security meeting at Headquarters Lahore Corps, where he was updated on Operation Radd-ul-Fasaad and yesterday's blast in Lahore.
Expressing his grief with victims and their families, COAS said that such incidents cannot lower our resolve to eliminate terrorism from its roots.
"We are making gains in breaking connectivity between terror masterminds and their facilitators/ executors," he said.
He said that Army fully supports and stands with police and other Law Enforcement Agencies towards performance of their role as first responders. "We have fought against terrorism as a nation and key to success is national participation by reporting every suspicious activity to security forces."
The COAS said that regional actors and hostile intelligence agencies are fully involved to use terror as policy tool.
"Concurrent blasts at Kabul and Lahore are testimony of our stance that both Pakistan and Afghanistan are victims of terrorism and will continue to suffer if these actors are able to use Afghanistan territory with impunity."
He reiterated that Pakistan is ready to help Afghanistan to eliminate terrorist safe heavens in their border areas as we have done on our side.
Later, COAS visited injured of the blast at General Hospital. Lieutenant General Sadiq Ali Commander Lahore Corps and Inspector General Police Punjab were also present.