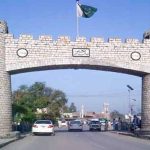 ISLAMABAD: Chief of Army Staff Gen Raheel Sharif on Friday arrived in North Waziristan to spend the Eid day with the troops participating in the operation Zarb-e-Azb.
DG ISPR Asim Bajwa said that Gen Raheel will stay overnight in Waziristan to celebrate the festival of Eid with the soldiers who are fighting a war against terrorism.
Yesterday, Gen Raheel also hosted a dinner in the remembrance of the martyrs of Army Public School Peshawar incident
.