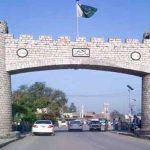 RAWALPINDI: Chief of Army Staff (COAS) General Qamar Javed Bajwa will visit Russia and Afghanistan next week.
Local media reported that General Qamar Javed Bajwa will have short stopover in Afghanistan where he will hold important meetings with Afghan officials. Bilateral cooperation for regional stability would be the main agenda of the meetings, reports added.
On the other hand, the COAS will visit Russia next week to witness the concluding session of on-going military exercises of Pakistan and Russian armies.
Joint military exercises are in process at an altitude of up to 2,300 meters above sea level in the highlands of the Caucasian Range. During the exercises, servicemen of the two countries are conducting combat training tasks at high altitude mountainous conditions for fighting against terrorists groups and conventional illegal armed formations.
Regular high level exchanges between the two sides in the past few years have set the stage for translating political goodwill into a substantial partnership in particular, in the field of defense.
The visit of COAS (Chief of the Army Staff) will contribute to further strengthening of defense cooperation between the two countries.