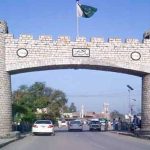 WAZIRISTAN: Chief of Army Staff General Raheel Sharif will pay a visit to South and North Waziristan on Tuesday to spend an entire day there, according to the ISPR.
Army chief General Raheel Sharif will head over today to South and North Waziristan to spend his entire day. The invitation to General Raheel Sharif was extended by the local tribes of the area.
According to a tweet by General Asim Bajwa, Director General of the ISPR, significant development projects will be inaugurated during the army chief's visit.
On Monday, army chief General Raheel Sharif attended the funeral prayers of the Pakistan Army soldiers who had been martyred by unprovoked Indian shelling from across the border. Indian BSF officials had resorted to shelling across the LoC, which resulted in the martyrdom of seven Pakistani soldiers. Pakistan Army responded effectively, targeting several Indian posts.