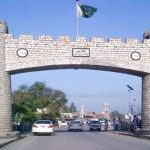 RAWALPINDI: Chief of Army Staff (COAS) General Qamar Javed Bajwa on Wednesday visited the troops along Line of Control (LoC).
In a statement issued by the Inter-Services Public Relations (ISPR), the COAS was briefed on the situation along the LoC and India's ceasefire violations deliberately targeting civilians and the response given by the Pakistan Army.
Speaking on the occasion, Gen Bajwa said that Kashmiris in Indian occupied Jammu and Kashmir (IOJ&K) are bravely facing Indian atrocities under continued siege.
He said, "We shall never leave them alone and play our rightful role at whatever cost".
Earlier today, Pakistan lodged a strong protest with India over its recent ceasefire violations on the line of control which resulted in the martyrdom of three civilians and serious injuries to eight others in the Nezapir Sector yesterday.
Director General South Asia & SAARC Mohammad Faisal summoned the Indian Deputy High Commissioner Gaurav Ahluwalia again today and condemned the unprovoked ceasefire violations by the Indian occupation forces.
Mohammad Faisal urged the Indian side to respect the 2003 Ceasefire arrangement and maintain peace on the LoC and the Working Boundary.
He urged that the Indian side should permit UNMOGIP to play its mandated role as per the UN Security Council resolutions.
The Director General South Asia and SAARC said the Indian occupation forces have continuously been targeting civilian populated areas with artillery fire, heavy-caliber mortars, and automatic weapons along the line of control and the working boundary. The deliberate targeting of civilian populated areas is indeed deplorable and contrary to human dignity, international human rights and humanitarian laws.
He said the ceasefire violations by India are a threat to regional peace and security and may lead to a strategic miscalculation.