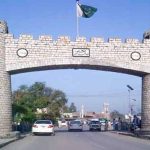 RAWALPINDI: Chief of Army Staff (COAS), General Raheel Sharif on Friday warned India that any misadventure will meet the most befitting response from Pakistan.
According to Inter Services Public Relations statement issued here Friday, COAS General Raheel Sharif expressed his complete satisfaction over operational preparedness of the Army and said that highest state of vigil is being maintained at the Line of Control (LoC), Working Boundary and all along the international border.
Army Chief said Pakistan can't be coerced through any amount of malicious propaganda.
COAS General Raheel Sharif visited a newly developed Combat Reaction Training Facility in the close vicinity of Lahore Garrison and was given a detailed briefing on the purpose built environment and obstacles meant to impart module based all arms training to mechanized troops.
While talking to troops, he exhorted all commanders to lay more emphasis on combat readiness emphasising that training in peace time is the only guarantor of averting and winning war if imposed.
Earlier, the Chief of Army Staff also inaugurated newly established Junior Campus of Garrison Academy Lahore and attended their first school assembly.
It was a special moment as COAS visited the premises of the school where he was a student 44 years ago (March 1967 – 1972). A large number of students, faculty members and Lahore Garrison Education System Staff were present on the occasion.