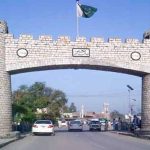 RAWALPINDI: An army colonel embraced martyrdom and a major was wounded when they fell into a ditch due to closure of Motorway near Rawalpindi on Saturday.
The unfortunate incident took place at 8pm.
"Lt-Col Shahid and Major Jalal (PACES) ASC were coming back from Rawalpindi with a convoy. Routes were blocked with containers; both officers were on foot to find an alternate route for convoy. Both fell from road edge into an unsuspecting disch/hole," a statement by the ISPR said.
"Colonel Shahid embraced martyrdom while Jalal is also seriously injured," it said.
Both the army officers were part of PACES team which won the competition.