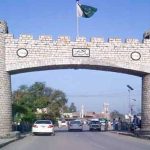 ISLAMABAD: Director General Inter Services Public Relations (ISPR) Major General Asif Ghafour has denied any involvement of Pakistan Army in the abduction of Pakistani-British national Gul Bukhari, a writer and rights activist who was kidnapped for several hours this week.
"We have nothing to do with it. I think this incident should be investigated thoroughly," ISPR Director-General Maj Gen Asif Ghafoor said.
Maj Gen Ghafoor said he had checked with every intelligence agency working for the army whether Bukhari had been detained by them shortly after the abduction was reported.
After her release, Gul Bukhari, the daughter of a late army general, said on Twitter that she was well and asked for privacy.