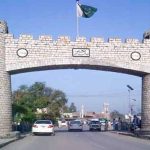 RAWALPINDI: Director General Inter-Services Public Relations (ISPR) Major General Asif Ghafoor on Friday has said that the verdict announced in Asia Bibi case was totally judicial and army has nothing to do with it.
In a statement, DG ISPR said that every Muslim loves Hazrat Mohammad (PBUH) and that the case of Asia Bibi remained under hearing in the courts for 10 years.
Dragging Pakistan Army into every case is deplorable as it is busy in eliminating terrorism from the country, he added.
DG ISPR said that the government also wants to resolve this matter to improve the law and order situation across the country.
Army should not be subjected to criticism alongside observance of respect for the Constitution, he said.
On October 31, Supreme Court (SC) had acquitted Asia Bibi, a Christian woman who was facing death sentence for blasphemy, and ordered to release her on immediate basis.
A three-member bench headed by Chief Justice of Pakistan (CJP) Justice Saqib Nisar and comprising Justice Mazhar Alam Khan Miankhel and Justice Asif Saeed Khosa heard the case during which, Asia's appeal against her execution was approved.
Following the verdict, the protesters took to the streets and blocked main roads in different cities.
In the wake of security concerns, mobile phone service in four cities remained suspended from 8:00am till Maghrib prayers while the schools and colleges were also closed in parts of the country.