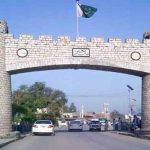 TANK: Leader of the grand jirga on Sunday announced that the Pakistan Army will bear the educational expenses of Naqeebullah Mehsud's son and his under-construction house in South Waziristan.
Naseem, a 27-year-old native of South Waziristan also known as Naqeebullah, was among four suspected terrorists killed in an 'exchange of fire' with a police team led by the then-Malir SSP Rao Anwar on January 13 in Shah Latif Town, Karachi.
Elders of the Mehsud and Burki tribes held a grand jirga with the Pakistan Army in South Waziristan's Chagmalai area earlier today.
"The Pakistan army has taken the responsibility to bear the educational expenses of Naqeebullah's son and his under construction house," leader of the jirga, Masood Ahmed, informed the media.
General Commanding Officer (GCO) Wana's acting in charge Brigadier Irfan Ahmed, political agent Ashfaq Ahmed, assistant political agent (APA) Muhammad Naib-ud-Din Dawar, and assistant political officer (APO) Ikhlaq Ahmed attended the jirga along with the leaders of Mehsud and Burki tribes.
Jirga leaders also stated that the army had eliminated mines from the area, and the families of victims who died in the mines will be compensated soon.
Following claims of innocence from Naqeebullah's family, an inquiry committee was formed, after which Anwar and the raiding police party officials went into hiding. Anwar and his associates were also suspended by the government and an FIR was registered against them owing to their no-show and alleged involvement in the case.
Meanwhile, Inspector General of Police Sindh AD Khawaja constituted on Friday a new investigation committee in the Naqeebullah murder case.
According to a notification, the new committee was formed under Additional IG Aftab Pathan.
Other members of the committee include SSP Javed Riaz and SSP Adeel Chandio, whereas, Abid Qaimkhani has been appointed the investigation officer of the case.
The notification further said that the committee will carry out an impartial investigation of the case and lead it to its logical conclusion.
The Supreme Court, which has taken a suo motu notice of the case, has given the Sindh Police until Wednesday to nab Anwar.