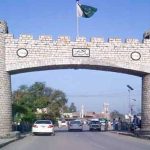 ISLAMABAD: Election Commission of Pakistan (ECP) Secretary Babar Yaqoob apprised on Thursday the Senate Standing Committee on Interior that army troops will not work independently during the July 25 election.
Addressing the committee's meeting today, the ECP secretary said an impression exists that the troops will work independently.
Yaqoob clarified that the army personnel deployed across the country on July 25 will work under presiding officers. He further stated that a written code of conduct was in place to this effect.
The electoral body's secretary said that army personnel will be liable to inform the presiding officer and returning officer if anyone attempts to fill ballot boxes, after which the prescribed method will be followed.
"Troops will only aid in holding peaceful polls," he informed the Senate's interior committee.
During the meeting, a representative of the General Headquarters (GHQ), the headquarters of Pakistan Army, informed the committee that the troops were only involved in improving the security situation.
"We are only working to improve the security situation on the instructions of ECP," he said, adding that troops were liable to follow the electoral body's code of conduct.
The GHQ representative further said that the armed forces had always lent support to civil institutions.
Responding to Senator Kulsoom Parveen's question as to how many troops will be sent to Balochistan, the armed forces' representative said that deployment of troops will be done as required.
"We have assessed areas for their security needs. Planning of the security arrangements should be left on us. We know how many troops are to be deployed in different areas," they said.
Stressing on complying with the ECP's code of conduct, the army's representative said the troops also have to perform the police's duties until the latter's capabilities improve. "We took extraordinary measures when polls were held in Afghanistan. Now the Afghan president has assured the prime minister and army chief, over the phone, of cooperation," they said.
The GHQ representative also clarified that there was no hindrance in communication with the electoral body.