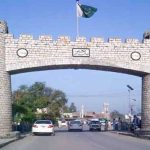 RAWALPINDI:  Gen Qamar Javed Bajwa, in his final public address as the army chief, said that Pak-Army was serve criticised after it detached itself from politics in February after much deliberation.
Addressing Defence and Martyrs day ceremony,  Army Chief criticised anti-military narrative and said that instead of welcoming the military's decision, "many sectors used very inappropriate and undignified language while making the army the target of severe criticism."
In his speech, he urged political stakeholders to set aside labels of 'imported' and 'selected' to move forward for the country's sake.
The top commander said criticism of the armed forces is the right of masses and political parties but mentioned that those who create rifts between institutions and people will always fail.
The outgoing chief started his speech by paying tribute to the martyrs, and acknowledging the patience of their bereaved families. He reassured that the army will continue to fulfill their financial needs.
For the first time, COAS responded to the criticism heaped at him and the armed forces by political parties. He maintained completing the role with patience for the greater good and decided to move on.
Armed forces was targeted recently by politicians with a 'false and made-up narrative' and the institution, despite being in capacity to respond to it by all manner, stayed calm, he said, eiterating that 'patience has a limit'.
He stressed ability to accept electoral defeats with grace, saying individuals and parties come and go, adding that no specific person can solve the quagmire. All politcal forces need to come together to find a long term solution.
COAS said it was proud for him to serve armed forces as commander for six years and added that the peace in cities and villages is accredited to the sacrifices of its martyrs.
Touching upon history during his address, the outgoing army chief said that he wanted to "correct" some facts regarding the events of 1971.
"1971 was not a military, but a political failure. Our army fought courageously in East Pakistan," the COAS highlighted.
General Bajwa, during his address, said that the basic job of the armed forces is to protect the geographical boundaries.
The COAS said that armies around the world are seldom criticised, however, Pakistan Army is often subjected to criticism.
"I think reason for that is the army's involvement in politics. That is why in February, the army decided to not interfere in politics."
"Many people subjected the army to criticism and a false narrative was created to spread chaos in the country," he said, reiterating that the military leadership can do anything except for going against the county.
He said the army had initiated its process of "catharsis" and expected that political parties would follow suit as well and reflect on their behaviour. "This is the reality that there have been mistakes from every institution, including political parties and civil society."
"No single party can take Pakistan out of the current economic crisis," he said, adding that lessons should be learned from such mistakes so the nation could move forward.
The COAS went on to say that a true democratic culture has to be adopted in Pakistan by eradicating the climate of intolerance.
"In 2018, using RTS as an excuse the winning party was called selected," he recalled, adding that after being ousted via a no-confidence motion one party named the other as "imported."
"We need to reject this attitude, winning and losing is a part of politics and all parties should have courage to accept their defeat or victory so that in next election instead of an imported or selected government an elected government is formed," he maintained.
Chief of Army Staff (COAS) General Qamar Javed Bajwa will be addressing a gathering at a delayed ceremony of Defence Day today (Wednesday).
The ceremony will be held at the Army Auditorium which will be attended by army officers and others to pay homage to the martyrs and victors who rendered supreme sacrifices in defence of the motherland on September 6, 1965.
Gen Bajwa's stint as Pakistan Army Chief is all set to end on November 29 while the government has initiated a process to appoint next COAS.
Every year, the main ceremony to commemorate Defence and Martyrs Day is held on September 6, but it was postponed this year in solidarity with victims of relentless monsoon rains that flooded parts of the country.
The Inter-Services Public Relations (ISPR), in a tweet, had said the decision taken in solidarity with the flood-affected people of Pakistan.
It added that Pakistan Armed Forces shall continue serving our brothers and sisters struck by unprecedented floods.
This year deadly floods caused by monstrous rains have devastated the north and south of the country, affecting over 33 million while causing large-scale infrastructural damage. More than 1,700 people lost their lives in the deluges.